Verdon Grand Canyon Tour 3D/2N, from 10 years old
Embark on an exceptional tour in the heart of the Gorges du Verdon, where you'll discover breathtaking scenery and create unforgettable memories whether you're alone, with family or with friends. Book online and don't hesitate to contact us using the chat (bottom right of your screen).  
Click here to find out more about the Verdon Grand Canyon tour.

DAY BY DAY
THE PRICE INCLUDES
QUESTIONS & ANSWERS
DAY BY DAY
Experience unforgettable adventures in the Gorges du Verdon! Discover our activities alone, with your family or friends! The order of activities may vary, but you'll receive full details in your roadbook before departure. Get ready to experience some exceptional moments in the heart of this magnificent setting.
DAY 1 – ARRIVAL
When you arrive at the lodge, take a moment to drop off your luggage and make yourself comfortable. Then take the opportunity to explore the area and immerse yourself in the magnificent natural landscape that surrounds you. You can explore the hiking trails, admire the breathtaking panoramas. In the evening, treat yourself with a delicious dinner, relax and get ready for the coming adventures.
DAY 2 – CANYONING or AQUA HIKE
Join your canyoning guide as he guides you through emerald waters and breathtaking natural scenery. Equipped with all the necessary equipment, you can enjoy thrilling activities such as abseiling, swimming in natural pools and, if you wish, exciting jumps. Get ready to create unforgettable memories in this exceptional natural setting.
DAY 3 – SCENIC ROAD CYCLING
Explore the magestic Route des Crêtes with electric bike. This scenic road is 23km long; it takes approximately 2h30 hours to ride this legendary route that skirts the impressive cliffs of the Grand Canyon du Verdon. This trek is considered easy, and is suitable for evreyone.  An unforgettable experience that combines sport, nature and relaxation.
Your adventure is coming to an end! After a nice breakfast, you'll get ready for your departure. If you have the chance, take a moment to stop by Moustiers-Sainte-Marie to capture some memories of this magnificent village and to enjoy the last moments of your stay and take away with you unforgettable memories of this adventure in the Gorges du Verdon.
THE PRICE INCLUDES
QUESTIONS & ANSWERS
Duration : 3D/2N
Level : Easy to moderate
Do you have a question? Need more details about travel dates, requirements, fitness level... contact us and we'll get back to you within shortly.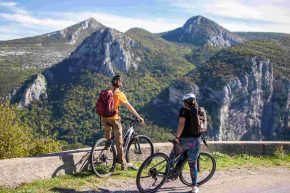 Canoe, E-bike two activities to discover the Verdon and its wonders in a friendly atmosphere!
Rafting, aqua hike and canoeing: a wide range of activities on the water as you descend the Gorges du Verdon in a protected natural setting while having fun!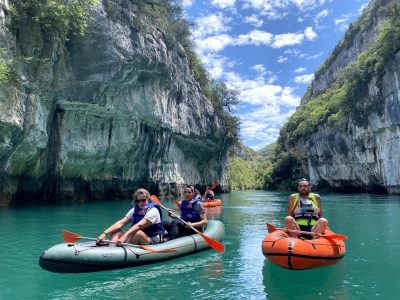 Discover the Gorges du Verdon by canoe and packraft to enjoy the breathtaking cliffs and crystal-clear waters with friends and family!